Expert lectures and training in the field of business sales are designed for everyone who wants to improve their selling skills, elevate their expertise, and confidently step into new business challenges.
The training sessions can be organised in-person or online, and they can be either standard or specifically tailored to your company, depending on the needs you wish to address within your business processes.
Our training programs, provided to companies for their employees' development, also include assessments of acquired knowledge and skills. As a result, all participants who successfully pass the tests receive a certificate on its completion.
The training sessions are led by Siniša Lalić, CEO of Shamrock Business Consulting, with over 20 years of work experience in sales, marketing, project management, and leading large teams in multiple countries. He is also the author of all the materials used in the training, which cover topics from real-life situations in the actual market conditions. Siniša Lalić is also a Member of the Board at the e-Development Association.

"The training is intended for employees in business sales across all industries, regardless of their experience. The goal of this training is to build and enhance modern sales skills among the participants."

– Siniša Lalić, Shamrock doo CEO
What Our Participants Say?
We have selected several impressions from the participants of our training held online in September 2021: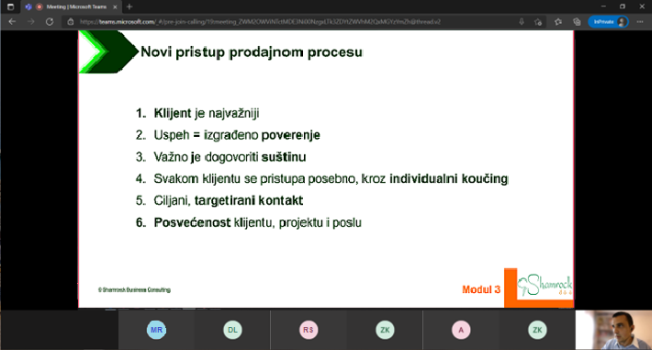 "I liked the way Mr. Siniša Lalić conducted this lecture; the material is simplified and adapted so that everyone can understand and apply it in their business. Of course, the advice and the exchange of opinions after the lecture are also extremely valuable."

Biljana R. Belgrade
"I am pleasantly surprised by the way the topics were addressed and explained. The real-life examples are truly excellent! "

Milica S. Belgrade
" I was expecting just another seminar, but I received very valuable knowledge that I immediately applied within my team. "

Vladimir Ć. Kragujevac
"It was very interesting. I will recommend this training to my company."

Dragoljub M. Belgrade
Thank You For Believing in Us!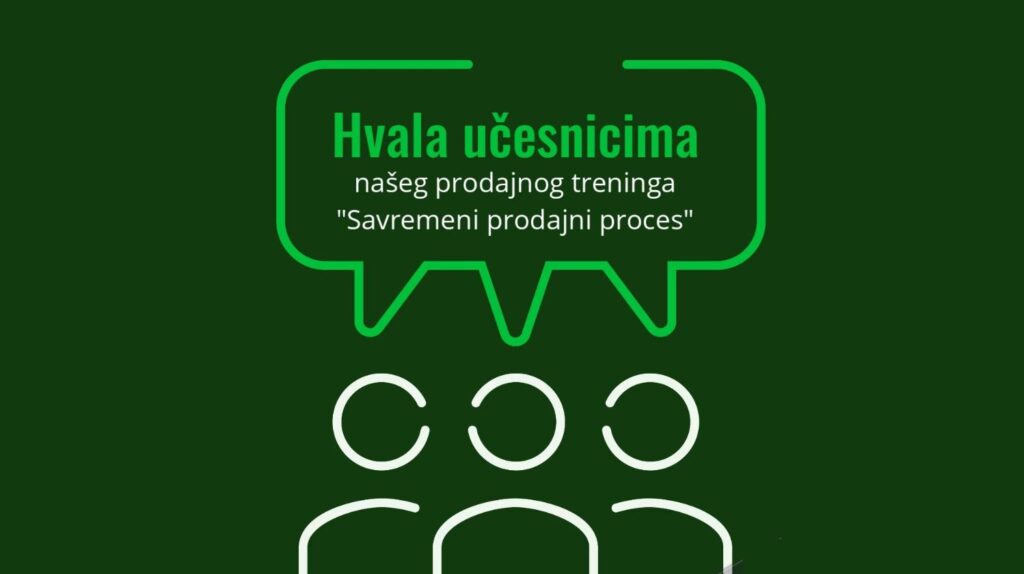 We have no ongoing trainings at the moment.
Professional training organizer:
Shamrock doo, Gandijeva 61, 11070 Belgrade, Serbia
Use the contact form on our website to contact us for more information.